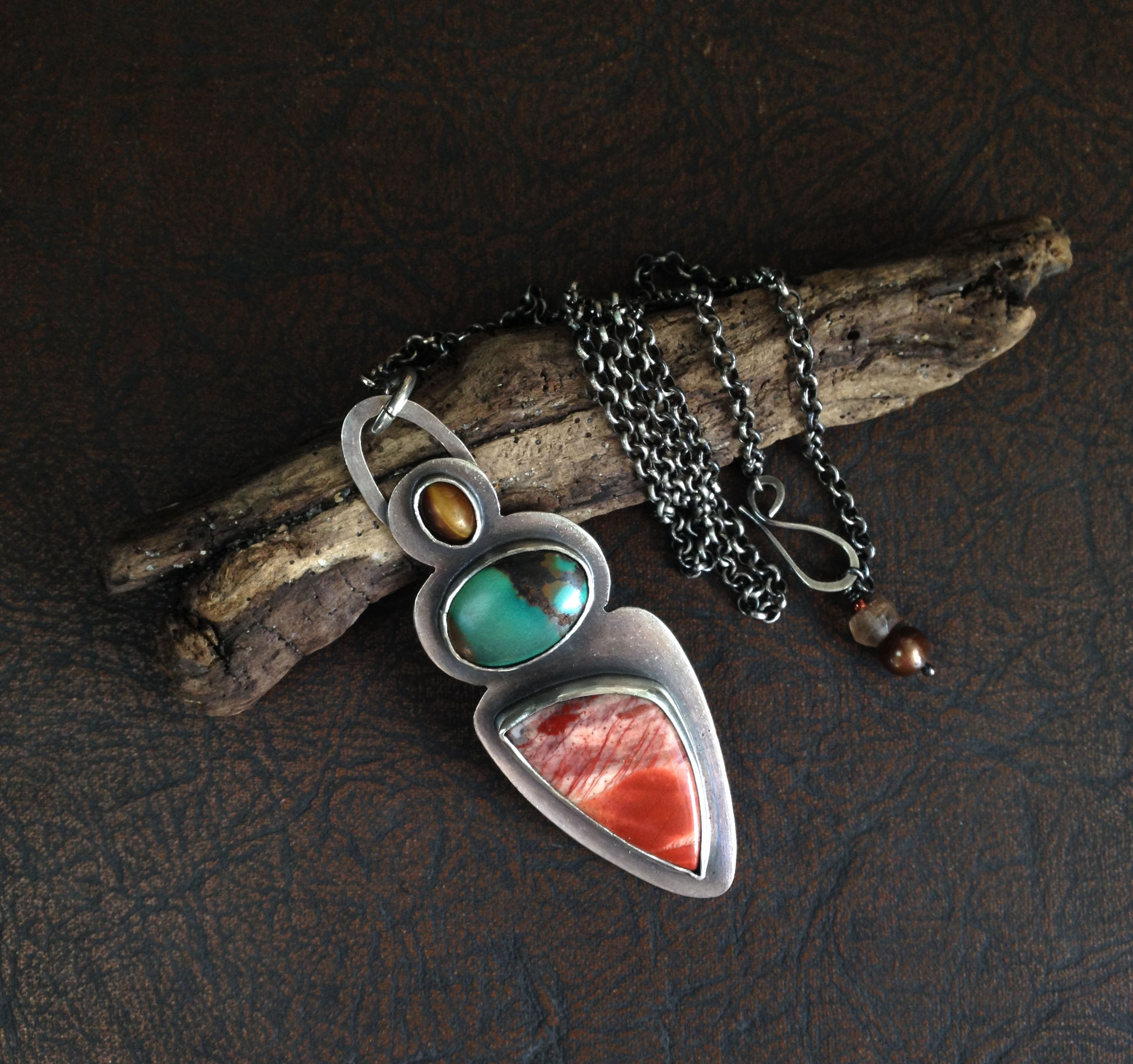 Crested Caracara
Measurements:
3" L x 1.10" W
Red Jasper, Turquoise, Tiger's Eye pendant.
23" rolo chain with handmade hook clasp.

A small copper freshwater pearl, rutilated quartz, and copper bead dangle from one end of the chain. Adjustable.

Heavily oxidized to bring out the subtle texture of the metal.

Pierced copper silhouette of a flying Crested Caracara.

Signed and dated on the back ".925".
This piece is part of a series of pendants representing endangered or threatened birds in the US.
I am starting the series off here in my native Florida, exploring the states extensive and varied bird population and how we interact, alter, and coexist within each other's world.

The Crested Caracara:

"Related to the typical falcons, but very different in shape and habits. The Crested Caracara is a strikingly patterned, broad-winged opportunist that often feeds on carrion. Aggressive, it may chase vultures away from road kills. Widespread in the American tropics, it enters our area only near the Mexican border and in Florida. "Caracara" comes from a South American Indian name, based on the bird's call."

Conservation status: "Has declined in parts of U.S. range, owing to shooting and habitat loss. Some evidence of recent increases in Texas. The distinctive race on Guadalupe Island, Mexico, became extinct in 1900."

Habitat: "Prairies, rangeland. Lives in a wide variety of semi-open habitats offering open ground for hunting and dense cover for nesting. In our area these include wet prairies of Florida, Texas coastal plain, desert in Arizona. Found in other kinds of open terrain in American tropics."
(information from audubon.org/field-guide/bird/crested-caracara).

sold out